It wasn't a really comfortable sleep on the nursery room floor. My watch say I only got 49% sleep, about four hours. Waking up, did some stretches, and then started re packing. At some point it will get to me a routine, honed and true and become second nature. As it is now, I pack, and repack, and it takes me too long. The nice thing is that the old adage about by the time we get it down perfect it will be time to leave, doesn't apply to this trip. At some point I'll have everything down to a routine and it will work and I will have weeks and months left.
Made lunch (Ham and Turkey sandwich, boiled eggs, blueberries, banana, and crackers) and then ate breakfast (muffin and orange and coffee). Today I bike with Mike (Retired, Belonged to a Cult, Texas, 74) who wants to get a Garmin GPS Navigator tailored for bicycles. Following the route has proved to be a little more challenging than we thought and every turn we have to consult both our maps and phones and GPS devices. Mike, being 74, is my hero and I can only wish, pray and plan that I could do this twenty four years from now.
We are firmly in Civil War History land now and the battle of Cold Harbor and Mechanicsville are coming up. It seems a little incongruous to see these plaques at the gates of housing developments, but we cannot protect everything, I suppose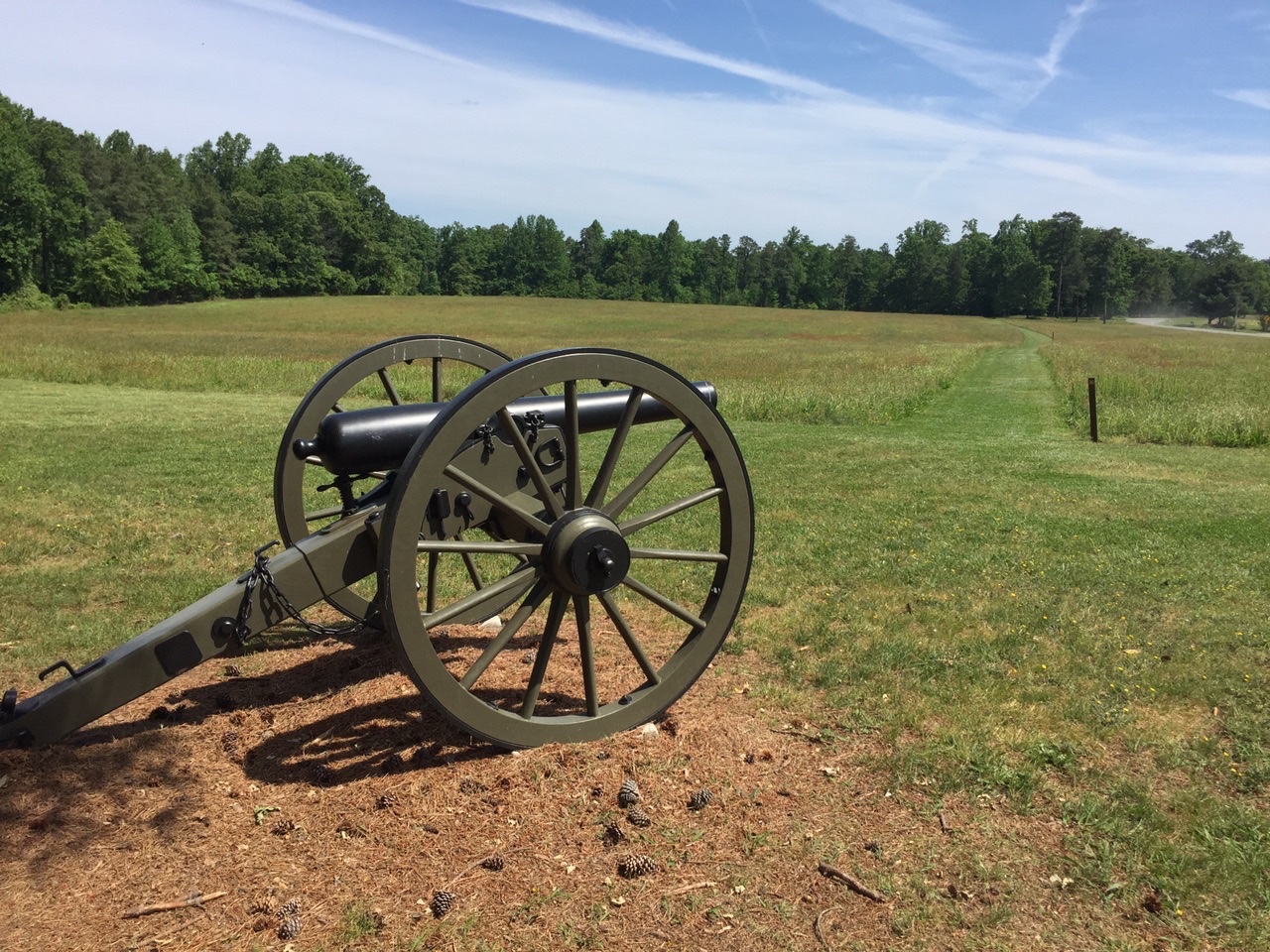 Richmond National Battlefield
We started to pull into the second series of battles, but this time it was 1864 and Lee faced Grant, not McClellan, and Grant was not squeamish about using the Army Lincoln gave him, almost to the point of just grindingly savage, losing thousands in a the last charge at Cold Harbor which he says he always regretted.
Generals get to defend and regret, it is the enlisted man and junior officer who must die trying to make the impossible possible.
The Battle of Cold Harbor was fought from May 31 to June 12, 1864, with the most significant fighting occurring on June 3. It was one of the final battles of Union Lt. Gen. Ulysses S. Grant's Overland Campaign during the American Civil War, and is remembered as one of American history's bloodiest, most lopsided battles. Thousands of Union soldiers were killed or wounded in a hopeless frontal assault against the fortified positions of Confederate Gen. Robert E. Lee's army.
The visitors center is small but has an excellent presentation of the series of battles that made up this Overland Campaign.
Grant said of the battle in his memoirs, "I have always regretted that the last assault at Cold Harbor was ever made. ... No advantage whatever was gained to compensate for the heavy loss we sustained." The armies confronted each other on these lines until the night of June 12, when Grant again advanced by his left flank, marching to the James River. It was an impressive defensive victory for Lee, but it was his last in the war.
Camping out in my Hammock tonight. We are camping out in the lawn of a friend of our guides. His wife has not only let twelve men camp, cook, drink on the front lawn of their farm, but let them come and use a shower and a bathroom. All while attending to a baby boy and irrepressible little two year old boy who, having discovered my hammock is now my best friend.
The Numbers.
45.6 miles today. 125.3 Total
948 feet up, 853 down for a total of 95 feet gained in altitude.